About Firm
Clearwater Professional Corporation is the leading bookkeeping services firm catering to the small business sectors of Oakville, Dundas, Etobicoke, Toronto, Waterdown, Burlington, Milton, Ancaster, Brampton, Hamilton, Grimsby, Mississauga and Stoney Creek, Ontario. As a certified QuickBooks Online ProAdvisor, we specialize in bookkeeping as well as various accounting, tax and payroll services. Clearwater is unbeatable at providing entrepreneurs with the services and advice most appropriate for their one-of-a-kind small business operations.
RIZWAN SHAKOOR C.P.A., C.A. (ON), M.A., B.COMM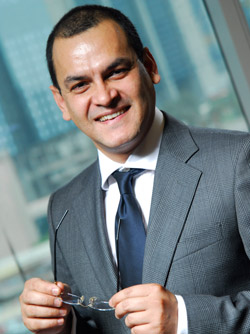 Working on an international level with world class multinational financial institutions, and with one of the Global Big 4 accounting firms for 30+ years, Rizwans has gained extensive experience in the areas of:
developing the formation and growth of capital
implementing accounting and tax systems
formulating business strategies for advancement and sustainability
With his B. Comm and M.A. designations, Rizwan is also a Chartered Accountant and Chartered Professional Accountant. He has also prospered from an excellent career over the past 15 years as both Chief Financial Officer and Chief Operating Officer in the financial services industry. When not dedicated to his work, Rizwan loves spending quality time with his family. He has two children, a son Zaid, and a daughter Eman, and his wife Deena Hasan Rizwan has a flourishing career as an award winning real estate professional with Royal LePage. Rizwan also enjoys golf, reading, cycling and running.
Rizwan and his skillful bookkeeping staff welcomes small business owners to connect with them at Clearwater Professional Corporation, and wishes everyone success in business, health and life!
CPC accounting & bookkeeping firm is located in the heart of Oakville, Ontario. We offer an extensive selection of bookkeeping, accounting, tax and payroll services to assist small business owners in and around Mississauga, Stoney Creek, Oakville, Dundas, Etobicoke, Toronto, Waterdown, Burlington, Milton, Ancaster, Brampton, Hamilton and Grimsby. Our bookkeeping firm has provided the following services vital for small business success for more than 30 years:
Bookkeeping Services
What is QuickBooks software?
QuickBooks advising
Bookkeeping for small business
Accounting Services
Accounting software consultancy
Incorporation / business registration
Part time controller / CFO advisory
Business planning for growth
Tax & Payroll Services
HST & tax filing
Tax planning
Payroll processing & employee benefits
Tax filing & personal taxation
HST filing
Corporate taxation
Clearwater Professional Corporation has a stellar reputation for providing the very best in customer service and care, and for saving our clients valuable time and money associated with bookkeeping, accounting, tax and payroll administrative duties. Our bookkeeping professionals will give you valuable advice, and will thoroughly cater to you and your small businesses unique needs. Our customized bookkeeping, accounting, tax and payroll services allow small business owners like you to alleviate your stress and burden, service your clients, and run your company smoothly!
Looking for the personalized service that a small bookkeeping firm offers, with the expertise and experience of a larger company? Look no further than Clearwater! Please contact us today to further explore how we can partner with you to make your small business in Oakville or surrounding area a success!